Manchester United's bid for world-class defender was "instantly rejected"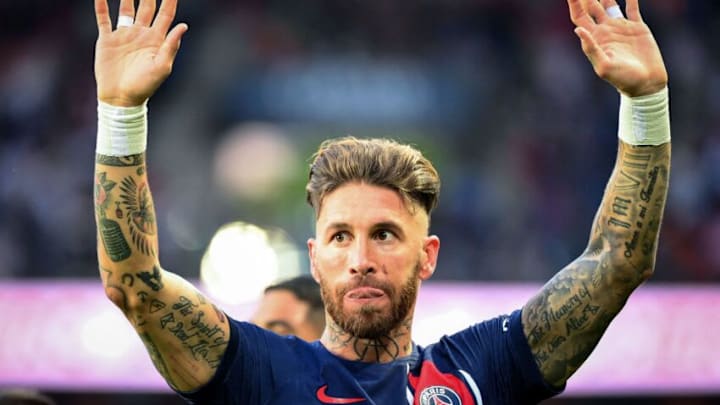 Sergio Ramos, Paris Saint-Germain (Photo by FRANCK FIFE/AFP via Getty Images) /
The spotlight is on Manchester United at the moment. Most particularly, the spotlight is on their defensive options. Given that Erik ten Hag finished his last important fixture against Arsenal with Harry Maguire and Jonny Evans on the pitch, question marks are raised as to why they didn't strengthen in this position throughout summer.
Manchester United bid for Sergio Ramos was "instantly rejected"
But, it was through no fault of their own. According to a new revelation from The Sun, Manchester United did actually try to sign the world-class defender Sergio Ramos, who was available late in the transfer window. However, it's thought their bid was "instantly rejected" by the player, who in the end joined his boyhood club Sevilla.
You can't help but question what could have been. Certainly, if United would've had Sergio Ramos to call upon, the result would've been different against Arsenal. The thing with Ramos, is that he excels in high-pressure situations. The same can't be said for Evans and Maguire who, frankly, crumbled under the pressure.
Granted, Ramos is 37 years old now, so he would've only been a short-term solution to a long-term problem for United. But they don't have the luxury to use that wildcard, since they signed Jonny Evans for the same reason.
Although, to bid for Sergio Ramos does show the level of desire from Erik ten Hag. It shows that he isn't as foolish as he's been made out to be in recent weeks. Of course, the media can criticise Manchester United for their flaws all they wish, but nobody notices those flaws before Ten Hag.
Given that they didn't sign the centre back they would've liked to in the summer, there's no doubt that they'll be back in the market in January. There's no excuses, their defence MUST be fixed.
Who would you like Manchester United to sign in January?